CALL FOR PRESENTATIONS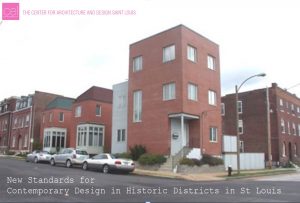 New Standards for Contemporary Design in Historic Districts in St Louis
CALL FOR PRESENTATIONS
For Thursday January ,28th 2016 FORUM!
The Preservation Board uses historic district standards and reviews to approve new construction in local historic districts. A Forum event has been planned and scheduled for Thursday  January ,28th 2016 from 5:00 pm to 8:00 pm. in order to provide an opportunity for all interested to discuss the topic of 'new standards' that would help guide that review before the Preservation Board's formal endorsement of the new standards.
Betsy Bradley, Director of the Cultural Resources Office, has talked several times on this topic and will be one of the presenters; she asks specifically to hear from others before she finalizes the draft standards. This forum will be a series of short presentations (15 minutes) regarding the visual compatibility and appropriateness of contemporary design in historic districts from your point of view. As many presentations as time allows will be accommodated.
Deadline to submit presentations for the Forum extended: Jan. 25th, 2016
When is the Forum:  Thursday January 28th 2016
What Time: 5:00 to 8:00 pm
Where: CEL Center for Architecture + Design Stl.
3307 Washington Ave.
St. Luis Mo. 63103
Moderator:  Paul Hohmann, Architect AIA
Presentations might:
Suggest and support with examples important principles for the review of contemporary design in historic district.
 Review a group of buildings and discuss visual compatibility with their historic setting
Target the strongly visual nature of materials and color in contemporary design
Explore different contexts and contemporary design, as in the infill building versus a site where several buildings could be erected.
Address new buildings and urban density through lot size
Responsibilities to those who locate in a historic district because they prefer that style of architecture.
Explore the continuum: Present a variety of designs for a particular location in a historic district and evaluate compatibility of design of each.
Thinking Contemporary Design in STL Districts. Please send your presentations to Ja@creativeexchangelab.com by Nov. 23, 2015
Also follow the link below if you would like to post and comment on the topic of this project/Forum prior or after:
https://www.linkedin.com/groups/7018589