---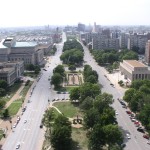 The St. Louis Follies Competition was conceived by Jasmin Aber as an outgrowth of the Market Street Charrette, an intensive, weekend-long design session sponsored last October by the St. Louis Chapter of the American Institute of Architects (AIA).
Aber organized the follies competition with Heather Woofter and Sung Ho Kim — both assistant professors of architecture as well as principals of the firm Axi:Ome llc. All three served on the competition jury, which Aber chaired. Other jurors included Eric Mumford, Ph.D., associate professor of architecture and Director of the Urban Design Program; Adam Whiton of MIT's Media Lab; Carl Ray Miller, associate professor at the Art Institute of Chicago; and Kevin McGowan of McGowan/Walsh Urban Developers.
For more information visit http://news.wustl.edu/news/Pages/8640.aspx or www.stlfollies.com.
---
---
---
---
---
---
---