Against All the Odds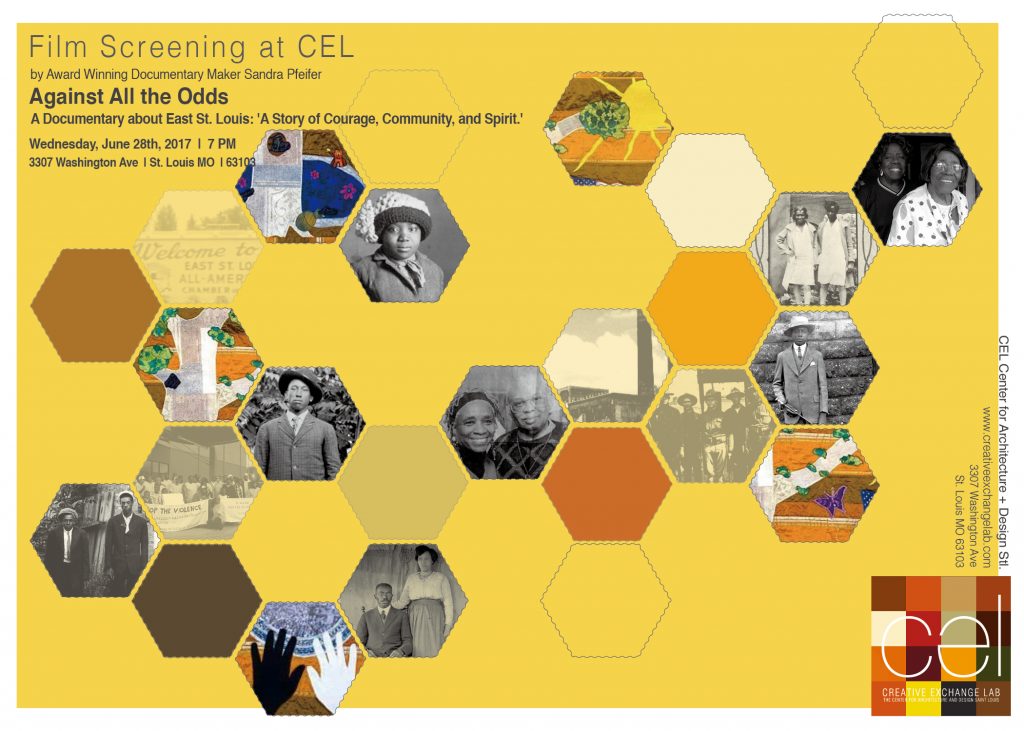 Screening and discussion of Sandra Pfeifer's award-winning documentary AGAINST ALL THE ODDS – a chance to learn histories of racial conflict, cultural richness, and decline in East St. Louis
Visit Creative Exchange Lab at 3307 Washington Avenue on Wednesday, June 28th at 7:00 PM to view this 60-minute documentary, a powerful portrait of an often-forgotten community whose experiences of racial conflict, cultural activity, and economic and population decline reveal the resiliency and singularity of East St. Louis.
This documentary is your chance to learn astounding local history through the lens of East St. Louis community members themselves. Historical photographs, archival footage, and interviews of locals who have lived through the tumultuous, rich history of their community leave a lasting, personal impression. East St. Louis exemplifies the ability of a disadvantaged community that has suffered so much strife, including racial conflict such as the riots of 1917 and economic decline from population and industrial shifts, and yet has maintained a strong community that has produced incredible contributions to American culture through jazz, blues, dance, and more. This story should be learned by all Americans, especially those from the St. Louis region, for the inspiring tales of East St. Louis citizens that paint the crucial histories of racial conflict, economic troubles, and cultural creation from our area that have shaped and encapsulated our national history.
This documentary, which has also been screened at film festivals and colleges across the country and received numerous awards, will be followed on the 28th by a participatory discussion, led by director Sandra Pfeifer, giving attendees the chance to network with like-minded citizens and learn more about local history and contemporary opportunities to support this community. For more information, please visit againstalltheodds.com or creativeexchangelab.com.
'Where the American Dream took a wrong turn, leaving an entire city without resources for 30 years. Who helped, who didn't and why we should care.'
What
Screening of 60-minute documentary film
AGAINST ALL THE ODDS
Participatory discussion with director Sandra Pfeifer
Where
CEL – Center for Architecture + Design StL
3307 Washington Ave (63103)
When
Wednesday, June 28, 2017
7:00 p.m.
A donation of $10 would be appreciated, but is not required
For more information
info@creativeexchangelab.com
or call 314.256.9317