Klimasymmetry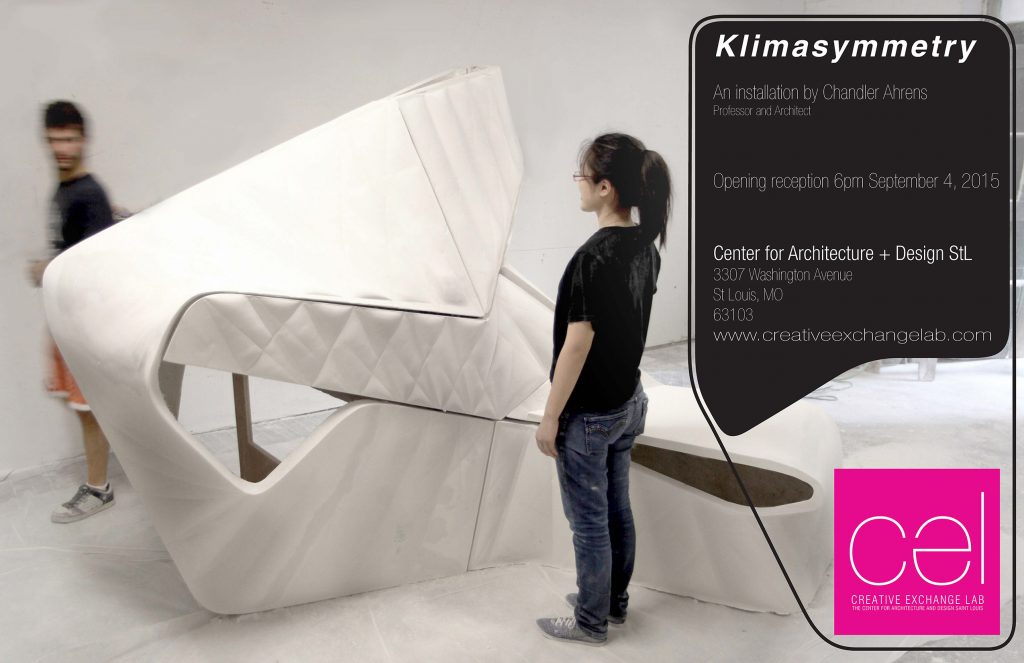 Creative Exchange Lab hosts reception for Chandler Ahrens
Friday, September 4th, 2015, St. Louis, Missouri. Creative Exchange Lab – The Center for Architecture + Design StL (CEL) will host a reception for Chandler Ahrens, professor at Washington University in St. Louis and Architect/ co-owner of Open Source Architecture. He will debut his installation Klimasymmetry, Locating Thermal Tactility at CEL's Washington Avenue gallery on September 4th, from 6-8pm.
The Klimasymmetry installation is an innovative sculptural object consisting of radiant heating and cooling panels. Thermal qualities affect our daily lives, yet rarely do we think of temperature as an architectural material that can be used in design. The installation is designed according to the way the human body physiologically perceives temperature and how those perceptions can define a space surrounding the object. From the sculptural form to the low-energy system, the project integrates sculpture, architecture, engineering, physiology, and sustainability into a single experimental installation.
Creative Exchange Lab is a 501(c)3 nonprofi­t organization whose mission is to contribute by cultivating and promoting a better understanding of the critical role 'Architecture, Art and Design' play not only in improving quality of life and livability of our neighborhoods, but also potentially as catalyst to economic development and sustainability of our cities using integrated Design Principles (IDP). How? Through: Exhibitions, Lectures, Workshops, Films and an Incubator Space.*
Reception for Chandler Ahrens' Klimasymmetry
September 4, 6:00-8:00 PM
CEL- The Center for Architecture + Design STL
3307 Washington Ave.
St. Louis, Missouri 63103
For more information, contact Jasmin Aber, ja@creativeexchangelab.org