St. Louis Follies Ideas competition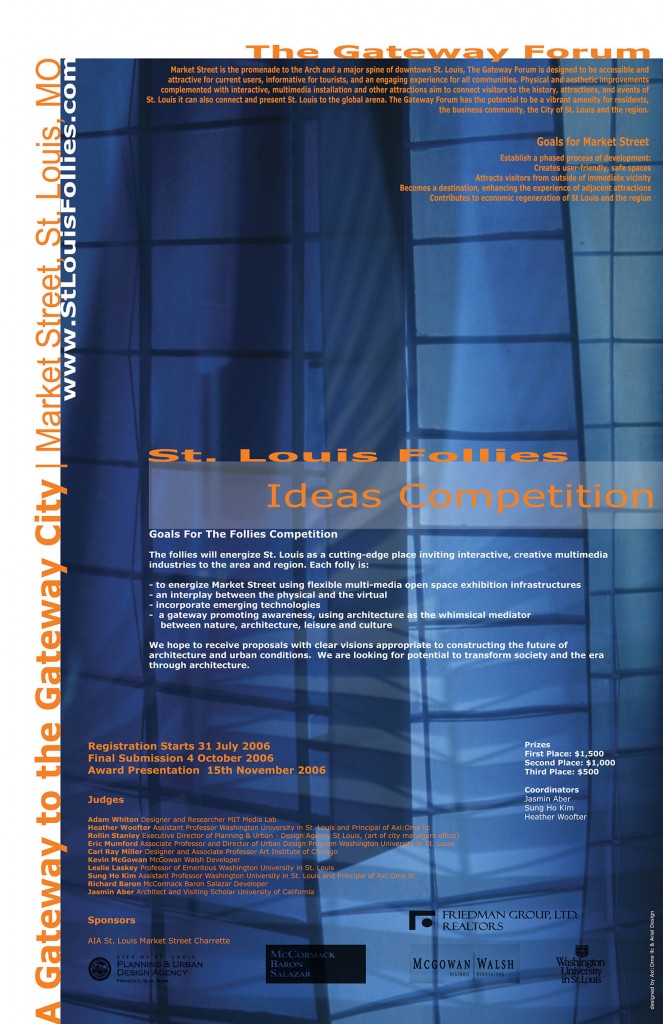 The folly is a very old architectural tool, a trick. They were especially popular from the end of the 16th century to the 18th century. Follies are usually found in parks or the grounds of stately homes. In architecture, a folly is an extravagant or fanciful building that often times appears to be something other than what it is. Modern experience of Follies: the Parc de la Villette in Paris has a number of modern follies by different architects.
The proposed follies for the gateway-forum:
The follies along the Gateway-Mall will ultimately be a series of places and spaces where innovation and new forms of expression are recognized, expositioned and articulated artistically. They are material constructions in that the structure and skin define a series of spaces, while allowing the immaterial constructions of media-driven content to project onto their surfaces.  They can also be considered as a laboratory of cultural democratization where art, society and local communities communicate and interact through changing exhibitions. The folly medium: interactive multimedia. The follies will also promote St. Louis as a cutting-edge place, inviting the creative multimedia industries to the area and region:
–  an interplay between the physical and the virtual
–  articulating architecture and landscape as a whimsical mediator
–  a one of a kind series of complex infrastructures (fiberoptics) associating nature and architecture, leisure and culture
–  a display of cutting-edge art, architecture and multimedia
–  exhibits societal trends (artistically articulated in the folly space)
–  the folly aims to promote awareness of other cultures and communities through interactive means
–  encourage and promote multi-media arts, industries and emerging technologies in the area and region
–  each folly is a gateway; architecture as the whimsical mediator in the landscape


Theme for the follies: the way we live (tomorrow):
The underlying theme of the follies will become manifest through interactive exhibitions that present the many ways our daily lives are (and will be) shaped through innovation and emerging technologies. The follies will encompass the role that innovation and technology play in shaping our living spaces and working lives; how we access education and entertainment.
The Aesthetic and Visual Concept for the Follies:
Sought quality for the visual concept and characteristic of the follies along Market Street:
a)  an energetic series of visual anchors that guide public movement and circulation from the Arch to Market street and downtown.
b)  It is important that the arrangement of the follies be encourage movement into the heart of downtown (more to the North of the axis – Market street).
The visual axis from and the arch has to promote the following qualities:
– pizzazz and élan
– a strong but balanced visual presence; light in structure and durable
– 'memorable'
– to signal each folly position from afar