Conversation with Kimberly McKinney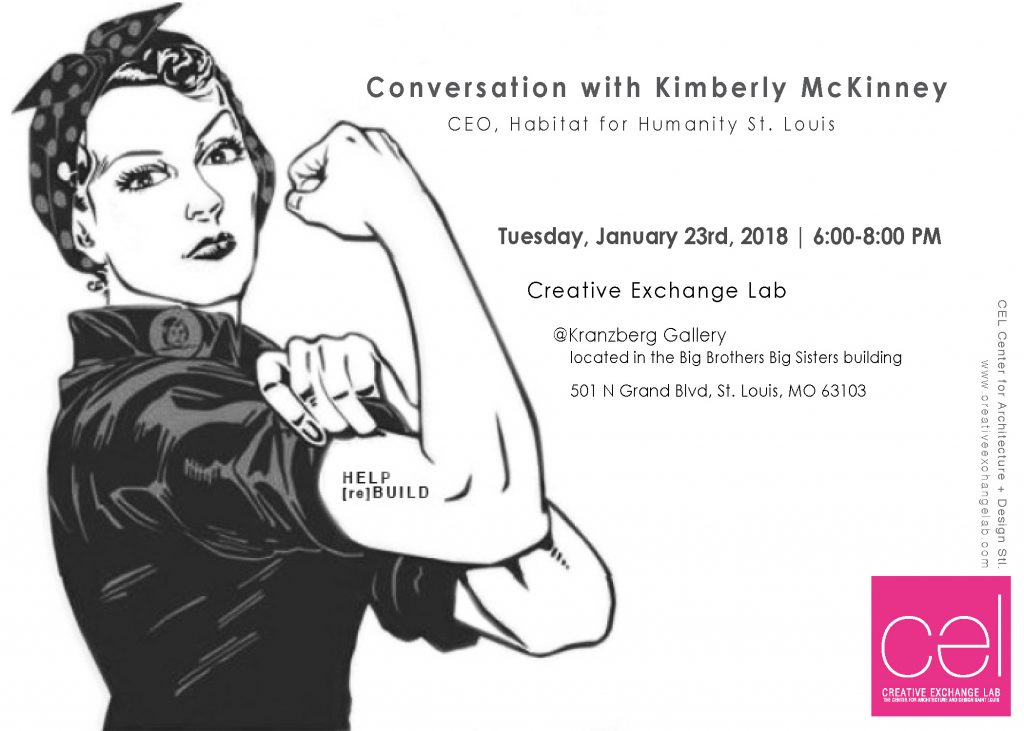 CEL Center for Architecture + Design + Planning 23rd Jan talk is with CEO of Habitat for Humanity, Kimberly McKinney
Kimberly McKinney, CEO of Habitat for Humanity St. Louis (HFHSL), will talk about how her organization and partner families build homes and hope in St. Louis City and County. Local families in need can AND will break the cycle of poverty and build a financially secure future. HFHSL purchases safe and affordable housing that results in transforming a community, strengthening the local economy, and ensuring future generations have the opportunities they deserve.

In 2012 Kimberly McKinney was selected as one of the twenty-five "Most Influential Women" by St. Louis Business Journal. As Chief Executive Officer of Habitat for Humanity Saint Louis Kimberly is responsible for the overall operation of the St. Louis affiliate of Habitat for Humanity International. Locally, Habitat for Humanity Saint Louis has built almost 400 houses. Kimberly initially began as Development Director in 1997 after relocating to St. Louis from Tennessee where she held management positions in both the public and private sectors.

CEL Center for Architecture Design + Planning is a unique non-profit organization (501 c 3), that advocates, generates, promotes collaboration and dialogue between the civic community across geographic, ideological and disciplinary boundaries and the architecture, planning-design professionals in practice and in academia through exhibitions, lectures and workshops with an award winning Incubator Design-Collaborative-Studio (iDC-Studio).