E=BLDGS Exhibition
Scientists tell us that climate change is very real, man-made and linked to our built environment.  City living may be a sustainable approach, but our cities are already feeling the effects of global warming. This change is caused by the emission of greenhouse gases, or "carbon emissions," into the atmosphere. One of the primary sources of carbon emissions is energy use: when fuel is burned, carbon dioxide is produced and released into the atmosphere. For one barrel of oil burned, 0.43 metric tons, or 948 pounds, of carbon dioxide are produced.
To combat global warming, the amount of carbon emitted into the atmosphere needs to be reduced. One way to do this is to reduce energy consumption by the building sector. According to the U.S. Department of Energy, currently about 40% of the energy consumed in the United States is attributed to buildings.
To view the exhibition photos click here
Opening Reception: Friday, May 11, 5 – 8 pm
Guest Speaker: Rick Bell, AIA, LEED (Executive Director, The Center for Architecture/AIA New York)
_______________________________________________________________
Buildings=Energy was originally organized by the AIA New York Chapter and the Center for Architecture Foundation, and was on view at the Center for Architecture October 1, 2011 – January 28, 2012.
Featuring the work of internationally renowned firms Arup, Atelier Ten, and Perkin+Will, among others, Buildings=Energy incorporates photography, video, architectural drawings, and panel displays in an effort to rethink modern building, both illuminating and deepening our ongoing conversation about energy consumption in the built environment.
The installation area in 635 Locust Street, St. Louis was designed and built by the Creative Exchange Lab team in April – May 2012.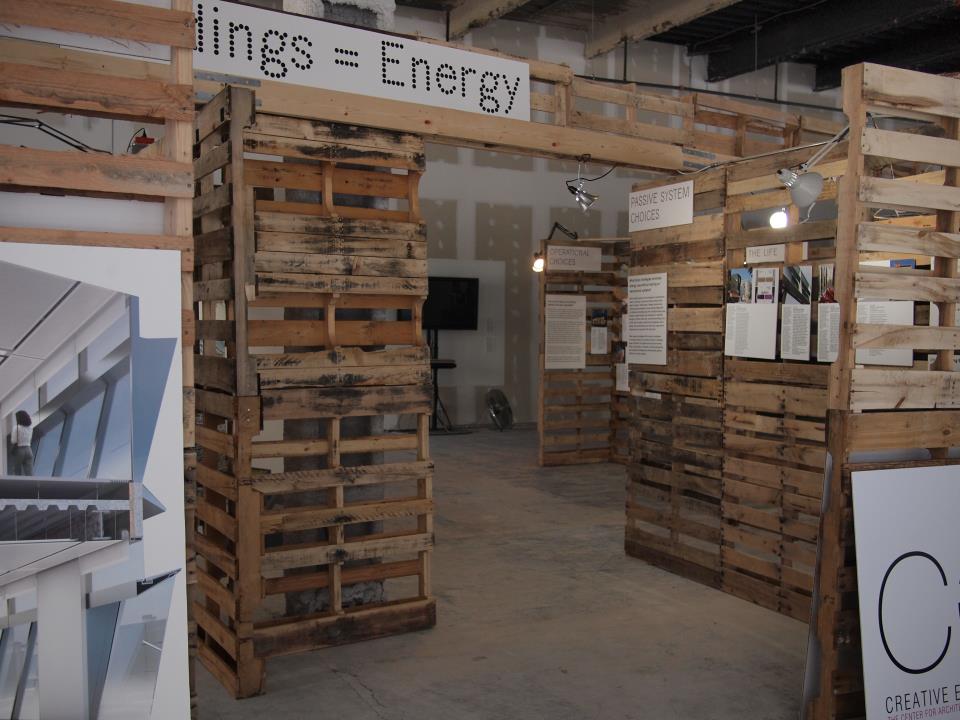 E=BLDGS is on view from May 11 – August 11, 2012
Address: 635 Locust, Saint Louis, Missouri, 63102 (northeast corner of Locust & 7th)
Exhibition Hours*
Tuesday 11:00am – 6:00pm
Wednesday 11:00am – 6:00pm
Thursday 11:00am – 8:00pm
Friday 11:00am – 6:00pm
Saturday 11:00am – 5:00pm
Sundays by appointments only. Closed Mondays.
Contact
Tel. 314.256.9317
Email: info@creativeexchangelab.com
*Also open for additional hours by appointment.
Sponsors
AIA New York
Mercantile Exchange
HoK
Swift Prints
Switch
Urban Chestnut Brewing Company
Washington University in St. Louis
USGBC Green Building Council St. Louis Chapter
Bryan Cave
Individual Sponsors & Donations
Rocio Romero
Durb &  Eleen Curlee
Tim Tucker
Siemak Mirnezami
Yvonne Sparks
Exhibition Architecture & Design Creative Team
Jasmin Aber, Director
Gina Gage, Project Manager, Designer
Yoko Kiyoi, Assistant Curator & Creative Consultant
Nathaniel Smith, Assistant Project Manager, Designer
Special Thanks To
Richard Baron (MBS), Karol Jacksn (MBS), Dan Hellmuth (hellmuth-bicknese), Vincent Schoemel, Juliana Barton, Amos Harris, Steve Methered, Kivanc Dundar, Malcolm Gray, Virginia Lee Hunter, Walker Gaffney, Jason Lintker, Heather McArthur, Vincent Schell, Justin Wood, Glenn Murphy, Michael Wood, Victoria Gray, Andrea, Monty, Nick Reed, Justin, Jason, Marcus, Stef Russell, Kaveh Razani, Tim Bryan, Buzz Spector, Becky Dale, Melinda Compton-Carter, Brian Licari, Lelie Lasky, Kathy Dunlop, Henry (the palette man), Eleen Curlee, Crista Carr Schatz, Gretta Forster, Derek Lauer, Paul Schlereth, Patricia Jean, Patricia Olynyk, Carianne Noga, Tim Burns, Matt Minder, Kevin Schopp, Jerry Altman, Rosamond Fletcher, Roseann Weiss, Mark Schulti