Lina Bo Bardi: a designer for life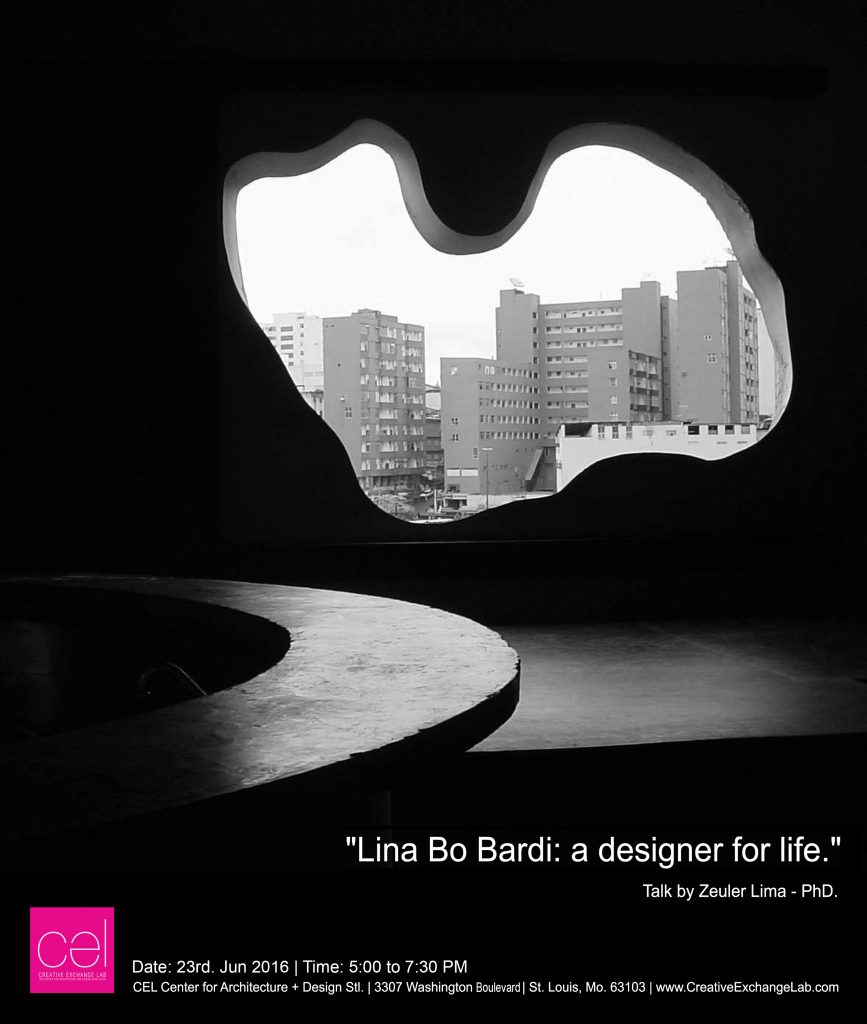 Leading expert to speak about modern master
Italian-born Brazilian architect Lina Bo Bardi is considered one of the most important architects of the 20th century, yet her remarkable work remains little known. Zeuler Lima, PhD – leading authority on Lina Bo Bardi as well as architect, author, and associate professor at the Sam Fox School at WU – will talk about Bo Bardi's work on June 23 at CEL, Center for Architecture + Design Stl (501c3).
Lina Bo Bardi (1914-1992) was a young architect in Rome and Milan during the 1940s, working with Gio Ponti, Bruno Zevi, and Domus magazine. Her abiding interest in the social and cultural aspects of design were shaped by seeing the effects of war first hand. In 1946 she married and moved to Brazil, where she was captivated by the country's vibrant culture and remained for the rest of her life. Her expressive and wide-ranging work encompasses architecture, set design, furniture and jewelry design and was deeply influenced by the popular culture of her adopted country. At the center of her modernist design sensibility was her understanding of its social impact, how real people use a building, how it can support public life, how it feels. Her work has inspired architects around the world.
Please join us for the opportunity to hear and learn more about Bo Bardi from Zeuler Lima, who has written the authoritative overview of her life and work, Lina Bo Bardi.
"Zeuler R.M. de A. Lima has astutely navigated the complexity of Bo Bardi's life and crafted a deeply researched yet highly pleasurable book."— John Hill, Designers & Books 
The exhibition will continue until the end of September.
Gallery hours (Summer): 
Mon-Fri: 11 to 5pm
Sat: 11:30 to 2:30PM