Summer Architecture & Design Film Series
JUNE 28th – AUGUST 2nd Thursdays 7:30pm + Sun. July 29th 7:3-pm
635 Locust St, St. Louis, MO 63102
DESIGN FILM SERIES
The Creative Exchange Lab is hosting a five-pronged Design Film Series addressing [1] Ecology, [2] Urbanism, [3] Fashion, [4] Architecture and [5] Design. These themes represent the interdisciplinary nature of the Creative Exchange Lab and touch on issues involved in the kind of progressive and contemporary architecture and landscape architecture practice that CEL fosters.
All upcoming films are screened on consecutive Thursdays from July 12th through August 2nd with one Sunday screening for Fashion on July 29th. Light fare and drinks are included with admission ($5 students, $10 adults) and served at 7:30pm. Film begins promptly at 8:00pm.
__________________________________________
Louis Sullivan: The Struggle for American Architecture Screening
Thursday June 28th / August 2nd 7:30pm
635 Locust St, St. Louis, MO 63102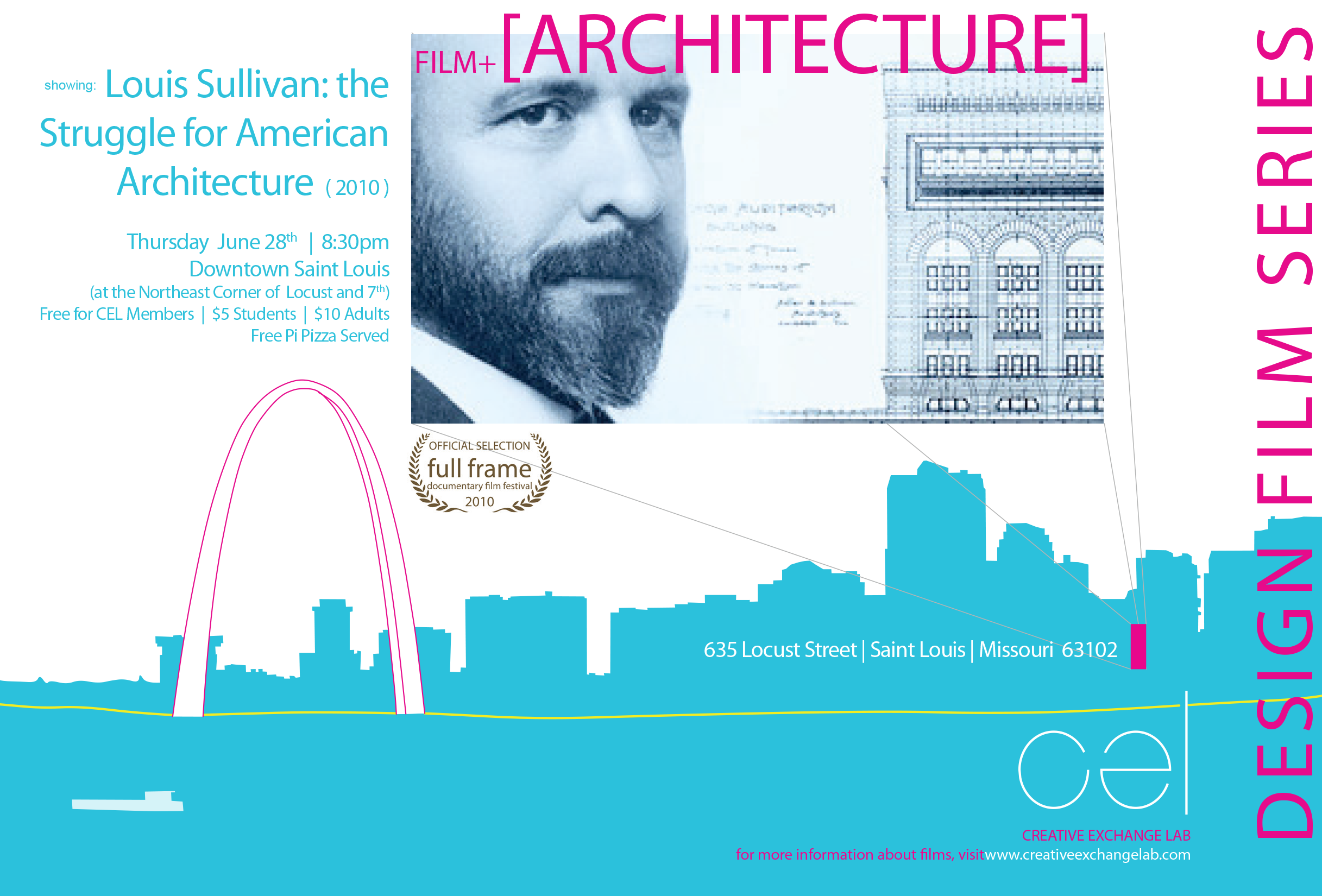 The Creative Exchange Lab presented the first screening in the Design Film Series in CEL's downtown exhibition space on the corner of 7th and Locust St on Thursday June 28th. The acclaimed film Louis Sullivan: the Struggle for American Architecture, directed by Mark Richard Smith, offers a portrayal of the man who fought for a uniquely American architecture that incorporated 19th century romanticism and 20th century modernism.
The film will be re-screened on August 2nd as a conclusion to the Design Film Series. (http://louissullivanfilm.com/)
__________________________________________
The Cove Screening
Thursday July 12th 7:30pm
635 Locust St, St. Louis, MO 63102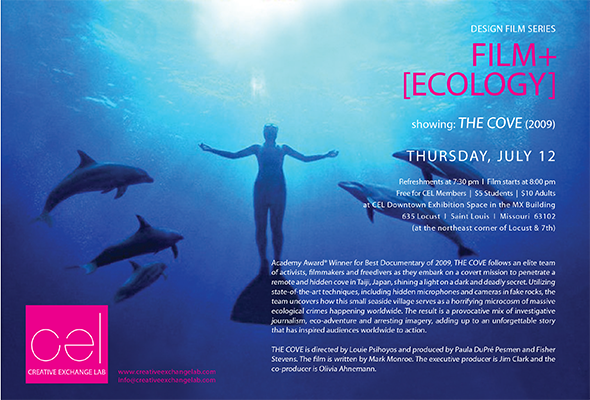 With a bent toward sustainability, the week on Ecology acknowledges environmental issues that are ever-more influential in architecture and landscape architectural design. The selection of The Cove for the ecology week addresses wildlife protection, public health and sophisticated and activism through documentary film making. (http://www.thecovemovie.com/)
As part of the Design Film Series, CEL means to broach issues of ecology directly and is dedicating one week of the film series to the subject. The Cove will be screened on Thursday July 12th at 8:00pm and depicts a group of activists uncovering disturbing and secret practice in a cove in Taiji, Japan. The Academy Award® Winner for Best Documentary in 2009, the film constitutes a "provocative mix of investigative journalism, eco-adventure and arresting imagery."
__________________________________________
Urbanized Screening
Thursday July 19th 7:30pm
635 Locust St, St. Louis, MO 63102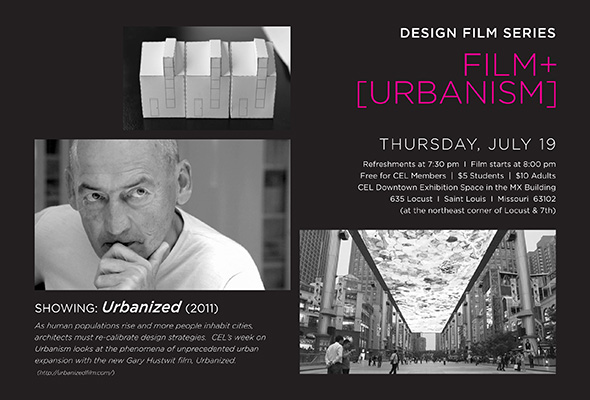 As the rise in human populations, especially those inhabiting cities, becomes more present in the design of places, architects re-calibrate design strategies. CEL's week on Urbanism looks at the phenomena of unprecedented urban expansion with the new Gary Hustwit film, Urbanized. (http://urbanizedfilm.com/)
__________________________________________
Eames: The Architect and the Painter Screening
Thursday July 26th 7:30pm
635 Locust St, St. Louis, MO 63102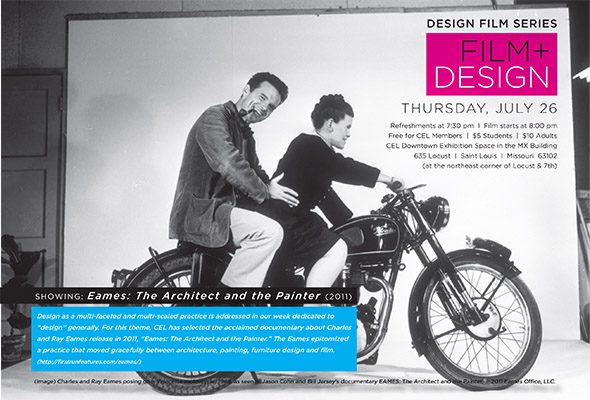 Design as a multi-faceted and multi-scaled practice is addressed in our week dedicated to "design" generally. For this theme, CEL has selected the acclaimed documentary about Charles and Ray Eames release in 2011, "Eames: The Architect and the Painter." The Eames epitomized a practice that moved gracefully between architecture, painting, furniture design and film. (http://firstrunfeatures.com/eames/)
__________________________________________
Bill Cunningham New York Screening
Sunday July 29th 7:30pm
635 Locust St, St. Louis, MO 63102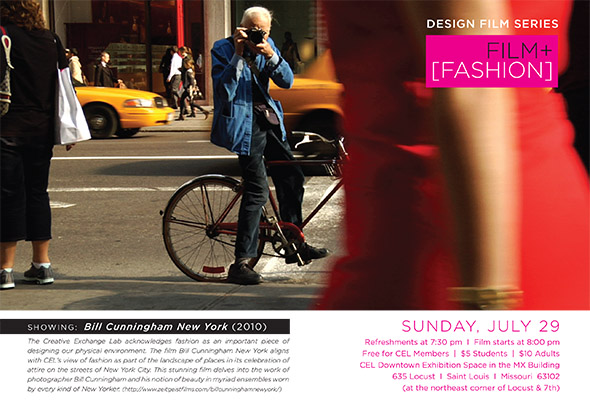 The Creative Exchange Lab acknowledges its sympathy for fashion as an important piece
of designing our physical environment. The film Bill Cunningham New York aligns with CEL's view of fashion as part of the landscape of places in its celebration of attire on the streets of New York City. This stunning film delves into the work of photographer Bill Cunningham and his notion of beauty in myriad ensembles worn by every kind of New Yorker. (http://www.zeitgeistfilms.com/billcunninghamnewyork/)
__________________________________________
Louis Sullivan: The Struggle for American Architecture re-Screening
August 2nd 7:30pm Wainwright Building, 111 North 7th St # 6, St. Louis, MO 63101
(http://louissullivanfilm.com/)